iKido
Confidentiality and strong protection of your data in the internet. Best VPN solution for your iPhone or iPad!
Be aware that your internet search requests, browser log files and personal messages or any other online traffic may be easily retrieved by hackers or server administrators of public or private Wi-Fi networks.

No black lists
Full access to all public sites in the Internet. Some countries restrict access to selected resources in the internet. Most of these restrictions are politically motivated. VPN connection gives you access to information as it declared in the Constitution.

Confidentiality
VPN user can preserve confidentiality on the forums, search engines and other resources with tracking of IP address.

High-end security level
VPN connection is protected by mordern AES-256 encipherment. Authorization and authentication are based on digital certificates. Private keys are generated locally on device and protected from extraction.

No logging
We don't log user's activity longer than it's defined by local regulations.
While traveling you need access to your e-mail and web pages. It's common to use public Wi-Fi networks in the airports, cafe and shops for connecting your mobile device to internet. Some of these networks may be insecure and vulnerable to a Man-in-the-middle attack. In this kind of attack the attacker substitues a real website with a fake one to be able to steal sensitive information like emails, passwords and payment credentials.
How to protect yourself from hackers and criminals?
We offer protected tunnel from your mobile device (iPhone, iPad) to our secure servers. Such technology is called Virtual Private Network (VPN) and is widely spread in the corporate environment. We deliver high-end professional solutions to private customers. VPN-on-Demand technology ensures that all your traffic will be automatically encrypted.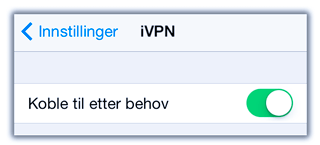 Such parameters garanties 100% data protection and comfortable usage of VPN. Our solution is designed for constant use, VPN connection is completely transparent to the user. Icon

in status bar shows that your device is under protection.
Think about data security!
---
| | |
| --- | --- |
| Supported OS | |
| Authorization | SSL-certificate |
| Encipherment | AES 256 |
| Bandwidth* | up to 20 MBit/s |
* Depends on quality and coverage of mobile network